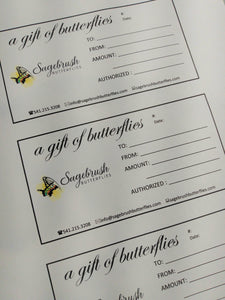 Sagebrush Butterflies Digital Gift Card
Regular price $10.00 Sale
A digital gift card (gift certificate) for all items in our online store.  One can literally give the gift of butterflies.  How cool is that?!?!?!

All of the typical things apply to orders and shipping of items, such as US only shipping and state shipping restrictions for live butterflies.
Protect the gift card code, as it spends like cash . 
Need a special denomination?  Let us know. 

If you prefer a physical paper gift card (as pictured) mailed to you or the recipient, please send us an email after checkout.  We will mail a physical card in a normal first class letter at no extra charge.  Want to make it super special?  Purchase a picture or art note card on the other listings and we'll mail the gift card in the butterfly note card :)